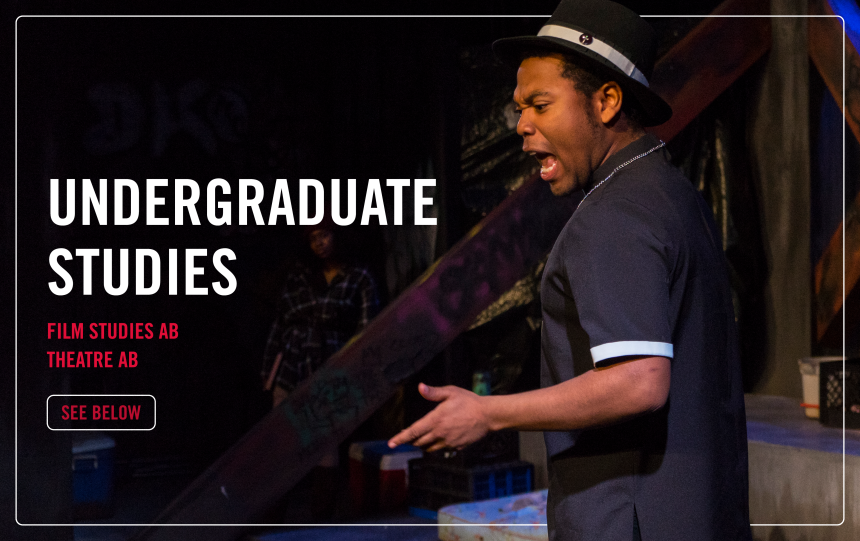 ---
We offer two Bachelor of Arts (AB) degrees – the A.B. in Theatre and the A.B. in Film Studies – as well as undergraduate minors in theatre and film studies. Both undergraduate programs are liberal arts degrees providing an exposure to several fields of knowledge in the physical, biological and social sciences, the humanities and the arts while also allowing a concentration in theatre or in film studies. More than half of our students pursue second majors or dual degrees, which is encouraged and remarkably manageable within four years.
The major in Film Studies concentrates on the history, criticism, and theory of cinema as an art form. Film Studies explores the medium's aesthetic, technological, economic, and cultural aspects. Film Studies offers students a wide range of topics, including some interdisciplinary courses with other Departments, as well as practical classes in writing for the screen, digital video production, and computer animation. Film production courses are also available to UGA students through the Georgia Film Consortium in partnership with Georgia Film Academy.
Theatre majors can pursue the general major or add an optional area of emphasis in acting, design, directing/stage management, dramatic media, dramatic writing, or theatre theory/history. They can also audition for the Musical Theatre Certificate Program in coordination with Hugh Hodgson School of Music or apply to the Double Dawg Theatre/Nonprofit Management and Leadership M.A. Program.
---
In addition to UGA Prospective Student Tour dates, the department offers prospective student tour/info sessions (for fall 2022, they are Oct 14 and Nov. 11) and individual prospective student tours by appointment. For more information on arranging a tour, contact Dina Canup at dinac@uga.edu .